My books on Amazon

Pricing: From $0.99 to $49.99
Check them out on Amazon...
The "Get Your 10K Email Subscribers + Earn Your 10K USD" course
Part 1: Launch your own email community
Part 2: Grow your email community to 10K email subscribers and beyond
Part 3: Earn 10K USD and beyond from your email community
Pricing: $1,199
Check out the details and reviews here...
The GrowthHackingIdea SaaS
Check out the mouth-watering numbers that the SaaS generates for me, my students – and can generate for you:
1. Average open rate of regular emails: 30-50% (that's
1.6x-2.7x higher
than the average market rate).
2. Average open rate of non-segmented sales emails: 70-90% (
2.8x-3.6x higher
than average market rate)
3. Average confirm rate for invited subscribers: 90% (
8.14x better
than emails gained through the KingSumo Giveaway)
4. How many sales happen BEFORE the animated countdown reaches 0:00?
26 times more sales
than AFTER. You'll be able to use the countdown in your sales emails.
5. The invite-only mode increases your
viral coefficient by 10 times
.
6. Headline A/B testing feature increased
conversions by 3.6 times
.
7. Automated follow-ups and motivational texts generate
+117% more referrals
for every viral funnel.
8. A few technical tricks automatically
reactivate 10%
of dormant subscribers every week.
9. Emails sent automatically between 9:00 - 9:30 am (user's local time) get
1.83 times higher open rates
.
10. How many new invited subscribers does each channel generate?
Facebook: 48%
Email: 22%
Direct link: 18%
WhatsApp: 8%
Slack: 3%
Blog: 3%
Twitter: 2%
11. Automated follow-up emails (sent when a user clicks, but doesn't buy) uncover insights that
boost sales by up to 20 times
.
12. Average conversion rate of a landing page: 30%-50% (
2x-10x higher
than average market rate)
13. A social image (that replicates a landing page)
increases your viral coefficient by 300%
.
14. A YouTube video automatically embedded into an email
increases the CTR by 55%
, and email sharing and forwarding by 41%.
15. 54% of people unsubscribe if emails come too frequently. The SaaS automatically decreases frequency for less-active subscribers.
16. Up to 100% of users can unsubscribe from your newsletter during your sales funnel emails. The SaaS sends new regular valuable growth hack at the end of each sales email. It also provides an option to unsubscribe from sales emails, but stay subscribed to your newsletter. This trick
decreases your unsubscribe rates from sales emails by 20x
.
To achieve 95% of the numbers above, you will need to do nothing. The SaaS will do it for you automatically.
Here's what the SaaS looks like:
Here are a few links to the communities of my students: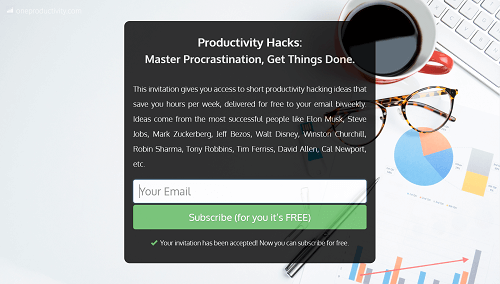 "The big difference is the viral aspect. For each new subscriber you find, you're getting new subscribers for free because your readers invite them!"
- Martin Hunt from the Netherlands.
Pricing for a copy of all files of the SaaS installed on your server
:
Lifetime license: $9,000 one-time payment per email community.
White label license: $10,000 one-time payment for an unlimited number of email communities for yourself or your customers.
Interested? Feel free to send me and email via main@growthhackingidea.com
Personal 1-on-1 sessions
Have you ever noticed, that some of your unpleasant results are illogical? I mean, from the logical point of view you did everything as prescribed by those who succeeded, you followed all the best growth hacks, rules, cases, proven instructions, scenarios, frameworks, but for some reason, you get either opposite results or the results that are far from what you expected.
Why does it happen to you?
That's because the logic is hidden deep below in your subconsciousness. You don't know it, don't understand, but it's super logical. It influences your life, your company, your growth, your team — everything.
Read more here in my article...
Do you want my personal help in 🔧 fixing your unwanted subconscious 🚧 blocks, that suck so much, for so long no matter how 😓 hard you try? Do you want to achieve your life-changing successes like my students regularly do? Yeah? Then I'll be delighted to share the might of the Teutsch IDEAL method with you through my program.
🌠 Feedback from my students:
"I liked most that I was able to identify the core limiting belief that has been holding me back for years."
- by Clyde from the UK.
"Within 30 minutes you can really discover a lot of interesting things"
- by D. from Ukraine.
"The most surprising is the analysis that Aladdin gave me about my blocks."
- by N. from Israel.
"Very helpful, I recommend it."
- by S. from Australia.
"I didn't expect to reach so many conclusions in such a short time."
- by Miguel from Chile.
"I did not expect to find a pattern so quickly. It was cool!"
- by Ivan from Ukraine.
"These are the first sessions which WORK."
- by a 40+yo entrepreneur from Poland.
"I was blown away."
- by Christophe from France.
"I feel like I already made $1000 back in value (for every $1 invested). "
- by Ahmed from India.
"It is amazing how Aladdin's simple 2-hour session enabled me to unlock my missing piece, wow!"
- by Tomoko from the USA.
"Aladdin has flipped my understanding of the root of my problems"
- by Evgeniy from Russia.
"I liked simplicity. It was mega helpful. I've understood a lot about myself."
- by Murat from Kazakhstan.
"My problem lasted for more than a decade! Now I got rid of it after one session!"
- by Nick from Ukraine.
"The session was amazing"
- by Kresimir from Croatia.
"The revelation was a huge surprise to me. Highly recommended."
- by Chris from Hong Kong.
"The session, the analysis, and the results have been very, very helpful, interesting and very practical."
- by Martin from Austria.
"I feel like I'm a new-born person."
- by Polina from the USA.
🎆 What kind of successes do my students share with me:
1. Most of the students weren't satisfied with their job before the session, they didn't like what they were doing, it was not interesting and exhausting. After the consultations within a month, the job suddenly began to give them pleasure, it began to be filled with creativity, curiosity, and the process began to fuel them with energy.
2. Another popular problem they experienced was "Lack of financial freedom, can't break the glass ceiling of income for years." After the sessions they suddenly discover opportunities on how to make more money, suddenly new sources of income appear out of the blue (it seem like out of the blue but in fact, it's a pure logical outcome, just the logic is unusual).
3. Also, many shared that they got rid of the pattern: "I want this but have to do/get what I don't want or want less". Their life has become more filled with joy and they finally were able to do/get what they want.
4. Most of the students experienced problems with a lack of desire to wake up in the morning, lack of light in the eyes, lack of a sense that would move them. Literally, after the first consultation, students share with me that now they clearly see the goal that warms their heart, inspires them and fills life with the sense and the desire to wake up in the morning.
5. A lot of clients during the sessions shared that they avoided opportunities and responsibility because they caused pain and heaviness. After the first session, they share, that now the responsibility evokes pleasant emotions. And as a result - new opportunities start to arrive out of the blue.
6. Another big part of my students had problems with debts that were growing month by month no matter what they did. Once they understood the reason they were able to change the trajectory, pay off their debts step by step and replace a never-ending stress with confidence they didn't experience for years.
What other successes the students shared with me:
7. They experienced the feeling of heaviness while making money. After consultations, the process of making money began to be pleasant, interesting and inspiring, new ideas on how to make money easier appeared out of the blue.
8. They couldn't find good employees for the key positions for years. After consultations, they suddenly were able to find ones within a couple of weeks.
9. It was scary to earn more money. After the first session, the fear disappeared like it never existed.
10. Procrastination, lack of motivation in paving their dream. After consultations - an explosion of consistent motivation and actual everyday actions.
11. For decades, they couldn't find like-minded people who it would be interesting to communicate with. After consultations suddenly out of the blue they found groups of interesting like-minded people.
12. They were afraid to be fired, disrespect from the boss and the fear to lose everything, don't be able to pay the bills, let the family down. After consultations, the boss became friendly, out of nowhere the student received a job offer to become a boss by himself.
13. They could not find a job for years, no one was interested. After consultations suddenly they got hired.
14. For decades, there was resentment on people, and nothing helped to get rid of it. After one consultation they entirely got rid of this poisoning feeling.
15. They had no self-confidence. After the consultations, confidence returned back, and with it - new bold ideas, new bold partnerships.
16. For more than a decade, they couldn't launch their business, every attempt led to disappointment and costs instead of revenues. After the consultations, they finally managed to start their own business and, without any investments, began earning income in the first month.
17. They experienced inner anger for more than a decade. An after just 1 session the anger turned into a feeling of gratitude.
Etc.
🎉 What is the program about:
1. How to fix your inherited subconscious patterns that block your financial 🗽 freedom, its growth 🚀, and produce other problems in your life no matter how 😓 hard you try to fix them.
2. How to get 💨 rid of the blocks that capture all areas of your life and ☢ pollute it with losses, hard-work, stagnation, ☠ collapse, disrespect, dependence, betrayal, dissatisfaction, stress, excessive responsibility, etc. no matter where you live, who you partner with and when.
💪 The central power of coaching is that I personally analyze and uncover your subconscious blocks + I personally help you to get rid of them.
🏰 The program is based on the Teutsch IDEAL method, which I am honored to learn from 1999. This method was created by Champion Kurt Teutsch and Joel Marie Teutsch. By using the method, they helped over 120,000 clients, including US presidents such as George HW Bush and Ronald Reagan, businessmen such as Mark R. Hughes, Emmy/Oscar 🏆 award winners, such as Jim Carrey, Elizabeth Taylor, Steven Spielberg, etc. By using the IDEAL method, my coaches Boris Sorin, Natalia Gura helped more than 100,000 clients to get rid of their million dollar debts and create profitable million dollar businesses.
📖 I began to study the IDEAL method mostly for myself. It helped me to get rid of my deep subconscious blocks. Before the IDEAL method, I was an 💼 employee who 😬 hated his job and earned not enough money even to cover the rent for an apartment. I had to depend and live with my wife's parents (it was hell 👿). By applying the method, I managed to get out of this hell. Gradually, I escaped from full dependence and low-paid work to my successful businesses. Then I sold them and achieved new and new levels - moved from my local market to the global. And eventually, the method helped me achieve the biggest dream of my life turn it into a global business of my dreams that warms my heart every second of the process.
🔓 The released blocks influenced not only my financial freedom but also my family, relations, health and the general state of happiness. Because the subconscious patterns manage all spheres of our life. Many times I almost divorced my wife, but the released blocks replaced hatred with love - now we are together with my wife for over 18 years 💑 (this number still sounds insane to me). My parents turned from enemies into friends. My health got rid of chronic diseases of the liver and the reproductive system. As a result after 15 years of infertility, our daughter Emily was born 👶. Without the Teutsch IDEAL method, I couldn't even dream about these results. The name of the method - IDEAL - is an abbreviation of the words: individualized, directive, explanatory, with a program of actions, logical.
🐼 What does the program consist of?
1. We start with a 1-on-1 two-hour coaching session via Skype/Google/Zoom: we just talk, I ask questions, you answer, and I use the IDEAL method to identify your personal subconscious patterns that block your dreams. It means, during the program, we will work not with some abstract blocks, but with your personal ones. Then, I give you a step-by-step deep understanding and a homework on how to get rid of your blocks.
2. Then, within a month, you apply your homework and as a result - you get new pleasant results in your life that usually seem magical to many of my students (in fact they aren't magical, they are logical, just the logic is unusual). If you have questions along the way, you ask me via email, and I help you.
3. Then, once a month, we have a new 1-hour coaching session: we analyze your struggles and successes, what you need to fix/improve to get 💨 rid of your blocks step by step and achieve your goals more efficiently.
4. Each coaching session releases next layer of your subconscious patterns that block your dreams and help you achieve your desired results.
🎯 What's the price?
$2388 for the annual program (12 sessions). You can start from acquiring just the first 2-hour session for $398, blow your mind with the gained insights, experience magical successes and then make a decision to acquire the rest of the program.
🕙 When can I start?
Any time. Please, send me an 💌 email via main@growthhackingidea.com or
book your first session here
.